MEETS 2020 U.S. EPA CLEAN AIR STANDARDS
Looking for a clean and efficient wood burning stove? Look no further than the Cape Cod Hybrid-Fyre™ Wood Stove! This large cast iron stove is one of the best in the world. With incredible craftsmanship, a large firebox, and elegant cast iron features, this durable stove is a must for your home.
The Cape Cod has the new and unique Hybrid-Fyre™ technology which is a combination of Lopi's advanced combustion system with catalytic and non-catalytic assist. This allows the stove to produce just 0.45 grams of emissions per hour and perform at over 80% efficiency. This is considerably lower than any other competing large capacity wood burning stoves. And, you conserve fuel by burning less wood for longer periods of time. Not only does this stove sound good to you but is also sounds good to the U.S. Environment Protection Agency. This stove meets the wood-burning 2020 clean air standards. Talk about saving on your heating bill and saving the environment this winter!
These stoves are built with convection heat, radiating warmth through your home even in times of no power! These stoves can withstand the elements since they do not require blowers to operate. The Cape Cod can heat up to 2,500 square feet for up to 12 hours; for a little extra help, consider installing the optional 400 CFM fan to boost heat circulation even more.
The unique features in this stove include room air begin drawn through the back and full convection chamber that surrounds the firebox which then circulates through the convection channel where it is heated. This heated air is then forced from the top convection chamber through natural convection to heat the room the stove is in.
The Cape Cod now comes with the optional GreenStart™ igniter. This is the new push button ignition system. Simply load up your stove and push the button. It is the perfect feature for an amazing modern wood burner. No longer are the days of struggling to get a startup or fighting with the fire to get the newspaper to catch.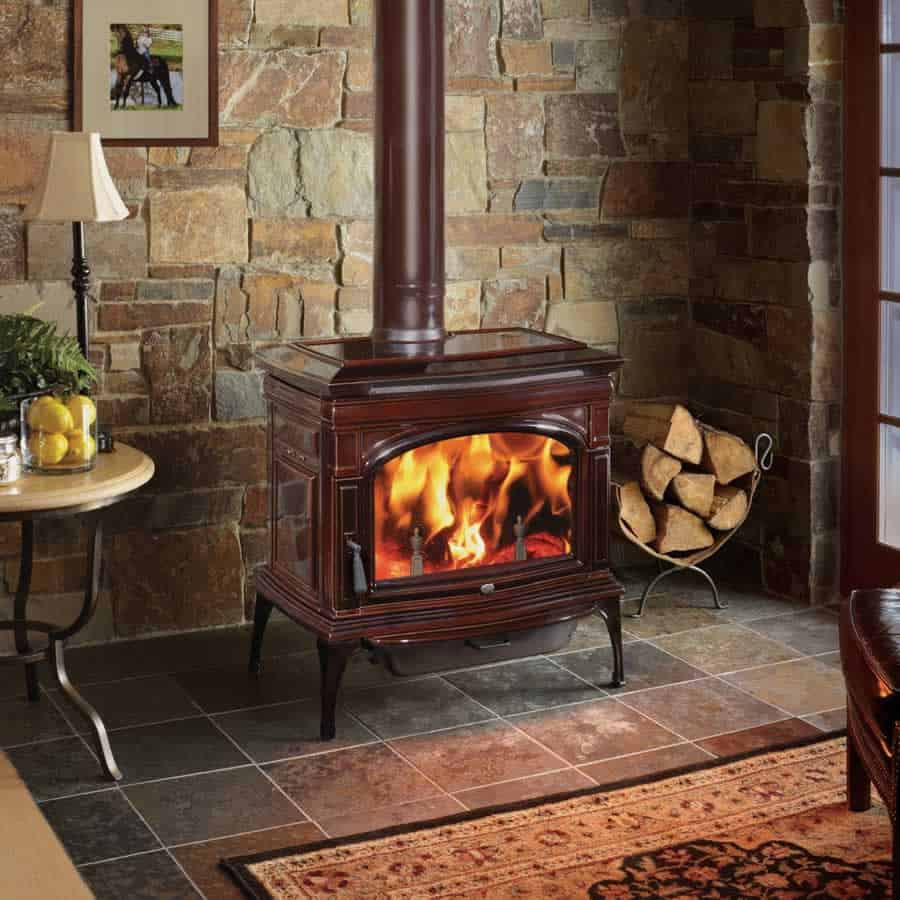 The upkeep on this stove is minimal, making it even better! With the help of the preheated combustion air, the glass stays clean and the stove burns efficiently. A single air control regulates the burn rate of the fire, making this advanced burner system easy to operate. This smoke free stove, has an easy glide large capacity ash drawer, making it a breeze to empty.
Not sure this stove will flow with the style of your house? There are two color options for you to check out: new iron and oxford brown enamel. Check out Lopi or a showroom to see some design ideas and test how amazing this product truly is.
This stove will not only warm your home, but it will warm your heart. The memories made, and times shared while lounging around the Cape Cod stove are to be cherished for years to come. There is nothing more magical than cuddling up, sharing some laughs, holidays, and parties around a glowing wood fire.