As the short days and long cold nights envelope Southern Ocean County and the rest of the state coming home to a warm glow in the fireplace is a great way to ward off the winter blues.
After a long day on the job, a cold drink in front of a flickering fire is the best way to unwind. If you do not have a fireplace or thinking of upgrading or converting from a wood burner, the 4415 HO gas fireplace offers the very best in home heating. With its long row of dancing flames and built-in fans it delivers an impressively high heat output. The 4415 HO's style sleek and linear appearance also adds a beautiful focal point in your home.
Maybe you were outside working on the job site of a renovation in Loveladies or a development in Tuckerton. Or you were on your feet in front of students, tending patients at Southern Ocean Medical Center or at a register anywhere from Acme to Walmart, you can come home and turn on the under-lighting that shines through the translucent glass floor and you've got magic whether the fire is on or off. There are plenty of ways to enjoy living on or near the Jersey Shore after the hectic summer season.
Are you one of the dedicated surfers out seeking those winter swells when you have the ocean pretty much to yourself?
Did twilight find you parked along the surf line looking to land that derby winning striped bass? Did you take some time off to get out on the water and try to snag some of those tasty, but very tricky, tautogs? Now you can home to the gorgeous flame and high heat output of the 4415 to take the salty chill from your bones. The fall is also time for Haunted Hayrides and pumpkin picking at one of the nearby farms before the first frost comes, and, of course, Trick or Treating with the with kids. It also when family and friends bundle up and head out to root for the Barnegat, Southern or Pinelands' football teams, as the band and cheerleaders pump up those huddled in the stands. Sunday, it is time to root for your favorite NFL team while gathered in front of the widescreen TV where the perennial friendly rivalry between Eagles and Giant fans plays out throughout game day with everyone agreeing to declare a truce during halftime to refuel on wings, pizza or healthy alternatives.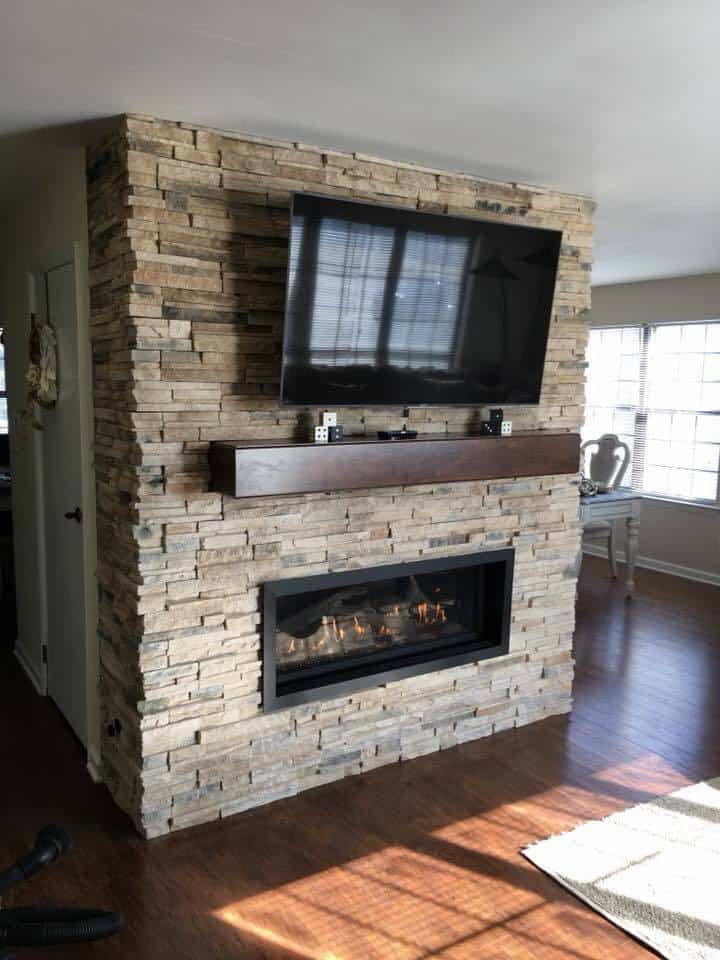 The 4415 will fit right will right in with any fan's lifestyle as it can accompany any architectural style with a selection of fireback options along with realistic Driftwood and Stone Fyre-Art. But don't let its looks fool you, with its thick heavy steel body and durable welded frame surrounding the ceramic glass, you are truly getting the best gas fireplace available.The 2015 ANSI approved low visibility safety barrier comes standard over the glass to increase the safety of this unit for you and your family without detracting from the beautiful fire view. Everyone will enjoy a Thanksgiving in front of roaring fire. The 4415 can heat up to 2100 sq. ft. giving plenty of options in your home for folks to warmly drift off into food comas, before coming back for pie. You can heat additional rooms in your home with the optional Power Heat Duct Kit. Comes Christmas time they'll be no more watching the Yule Log on TV and you can hang those stockings above the 4415 if you install a mantle safely above. The 4415 will keep you warm well into the New Year and be the perfect backdrop for a romantic Valentine's Day celebration.
Contact Fireplaces and More to learn about the 4415 HO, including to schedule an installation.

Product Specs:
Heating Capacity – Up to 2100 sq. ft.
Steady State Efficiency (High) * Up to 77.08% (NG), 77.39% (LP)
BTU Range 21,672 to 42,000 (NG) – 21,413 to 42,000 (LP) BTU's / Hour
EnerGuide Efficiency Rating – Up to 63.35% (NG), 63.88% (LP)
AFUE – Up to 65.1% (NG), 62.6% (LP)
Fan – Standard
Glass Area – 42″ W x 13″ H
Venting – Top Vent
GreenSmart Remote – Standard
Weight – 255 Pounds
Comfort Control -No
Burner System Ribbon
* Your results may vary depending on your vent configuration.
Accessories*:
Faces / Doors:
2″ Flat Trim Kit
Tile Trim Kit 1/2 – 7/8″
Tile Trim Kit, 1-1 1/2″
Gallery Face
Iron Works Trim – Bronze Patina
Iron Works Trim – Burnished Patina
Firebacks / Liners:
Black Painted
Ledgestone
Black Glass
Log Sets:
Driftwood Twigs & Stone
Driftwood
Traditional Log Set
Tumbled Stone
Crushed Glass:
Platinum
Bronze
Cobalt
Black Glass
Rock Embers