Are you looking to build your dream home? Are you remodeling and want to add a stunning kitchen that suits your unique taste? Look no further than the modern convince of Elmira appliances. Their products are meant for you if you love the look of antique kitchen appliances. All of their products are stunning, eye catching pieces. Not only are they functional but they are also extremely versatile. Depending on the product, they feature a series of options that will suit your homes needs.
Elmira Stove Works is a family owned company founded in 1975. Tom Hendrick, the founder, saw the potential to supply complete stoves to the local Canadian area as well as across North America. He originally supplied wood burning stoves but with the increase in popularity and demand, requests for gas and electric models came flooding in. The product offerings were then expanded, including gas and electric ranges with traditional and modern conveniences.
Elmira emphasizes and showcases their antique collection. They expanded their business into product lines including refrigerators, wall ovens, microwaves, and dishwashers. The vintage styling is what has helped grow the customer base. Not only do they offer vintage, Victorian style appliances but they also feature retro style appliances. By expanding their offerings, they expanded their customer base towards a younger audience.
To start your kitchen with the perfect piece, take a look at the range options. With Elmira's pro-style ranges, that are completely customizable as per your request, you can choose a model color, options, and accents to suit your home. These ranges are complete with state-of-the-art features that will elevate your culinary experience. The ovens are full sized and self-cleaning, and you can choose what cooktop you would like. The antique ranges are outfitted with genuine nickel trim, copper is also available. The stove features a warmer area that doubles as storage. The eye level upper cabinet discretely masks the control panel to preserve the charm.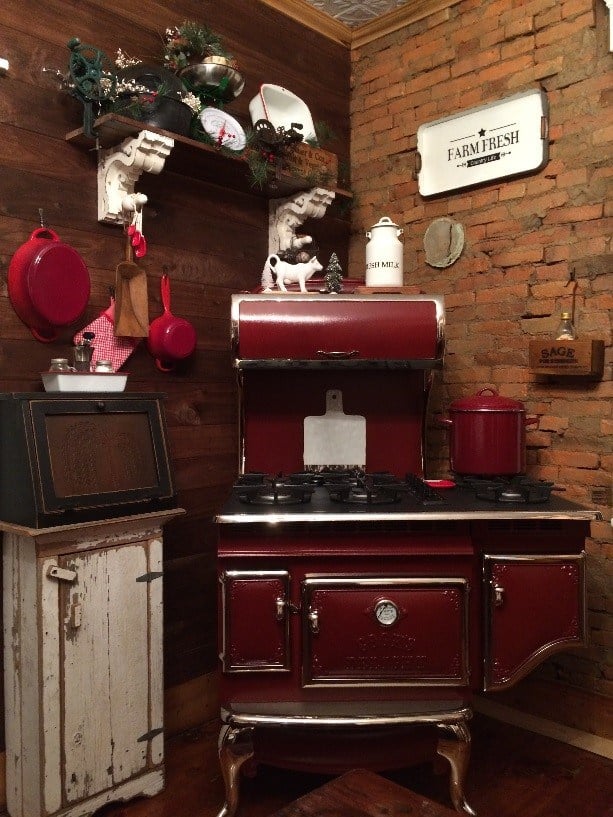 When it comes to the antique fridge options, you can choose from three models in seven colors with two metal trim options. Never fear, there is always a Elmira antique refrigerator to suit your home. These fridges boast being able to keep up with your lifestyle, cooking style, and design style. With all the modern conveniences of an ice maker and a filtered water dispenser, you don't have to sacrifice style for functionality.
Do you host extravagant meals, dinner parties, or family gatherings? Want an oven that can accommodate your social calendar? Look no further than the 1880 wall oven. This oven can be installed in a wall or island featuring self-cleaning convection technology with extra capacity for the chef. With many color and trim options, you can create the perfect piece for all of your cooking and entertaining needs. One of the best features boasted by the company is the extreme versatility. Choose from gas or electric or combine the two! Looking for a traditional stove, they feature model that is actually a real wood burning stove.
If the oven is overwhelming for your kitchen, consider the model 1895 microwave. This deluxe microwave fits right in with the rest of the antique product line so there is no need to fear mismatching. Complete with inverter technology, you can have your microwave as a counter unit or you can build it into your cabinets.
To top it off, and help clean up after your gatherings, complete your vintage vibe with a matching dishwasher panel or complete dishwasher. Offered in all the matching colors and trims, your dishwasher doesn't have to be the one feature in your kitchen that isn't antique. Their dishwashers feature fully integrated controls, meaning they are on top of the door and out of sight. If your dishwasher is basic and you want to keep using it, if your dishwasher is considered "panel-ready", Elmira will do their best to accommodate your dishwashers' new panel.
If you are looking to create a unique and stunning custom kitchen, look no further than Elmira stove works. Not sure exactly what color, style, trim, or features you want? Head over to Fireplaces Plus, Inc. They feature a floor model and are an authorized dealer in these antique kitchen products. For versatility, functionality, and style, look no further than Elmira.
Come to our fireplace showroom in Southern Ocean County New Jersey to view an Elmira Stove Works Antique kitchen.
View More Photos at the Elmira Stove Work gallery.
Also, don't forget to follow us on Instagram!