Do you have an existing fireplace? Is it performing at the maximum efficiency it can? Do you have a wood burning fireplace that you want to convert to gas? There are so many options and variables to consider when trying to decide which product is best for you home. It is time to look no further! The 616 GSR Gas Fireplace Insert is here.
The 616 gas fireplace insert is the a deluxe product that is designed to showcase warm, dancing flames of your new fire. With an extra-large viewing area, you are in for a cozy afternoon on a cool, fall day at the Jersey shore. With a glass insert that is 20% larger than competing inserts, the 616 gas insert is not to disappoint.
Not only will it create a gathering place in your home, but it will also heat your home up to 2,000 square feet. This beauty is complete with interior accent lights, convection fans, and the GreenSmart™ 2 handheld remote. This feature allows you to control all functions of the insert without ever having to leave the comfy spot you have nestled into.
Best in quality, performance, and convenience, the 616 gas insert showcases the Dancing-Frye™ burner. Customize the insert to fit your home and your taste. You can choose from a variety of different log sets and fireback options. For a beachy feel, select the Bronze Patina shadowbox with the herringbone brick fireback and liner with the driftwood log set.
Not sure the beachy vibe works for you? The other face and door options include the painted metropolitan black and a black painted shadowbox. For firebacks and liners, your options include painted black, common brick, handmade brick, or black glass. When it comes to log sets, if you aren't a fan of the driftwood look you can select either the standard log set or the fyre-stones stone kit.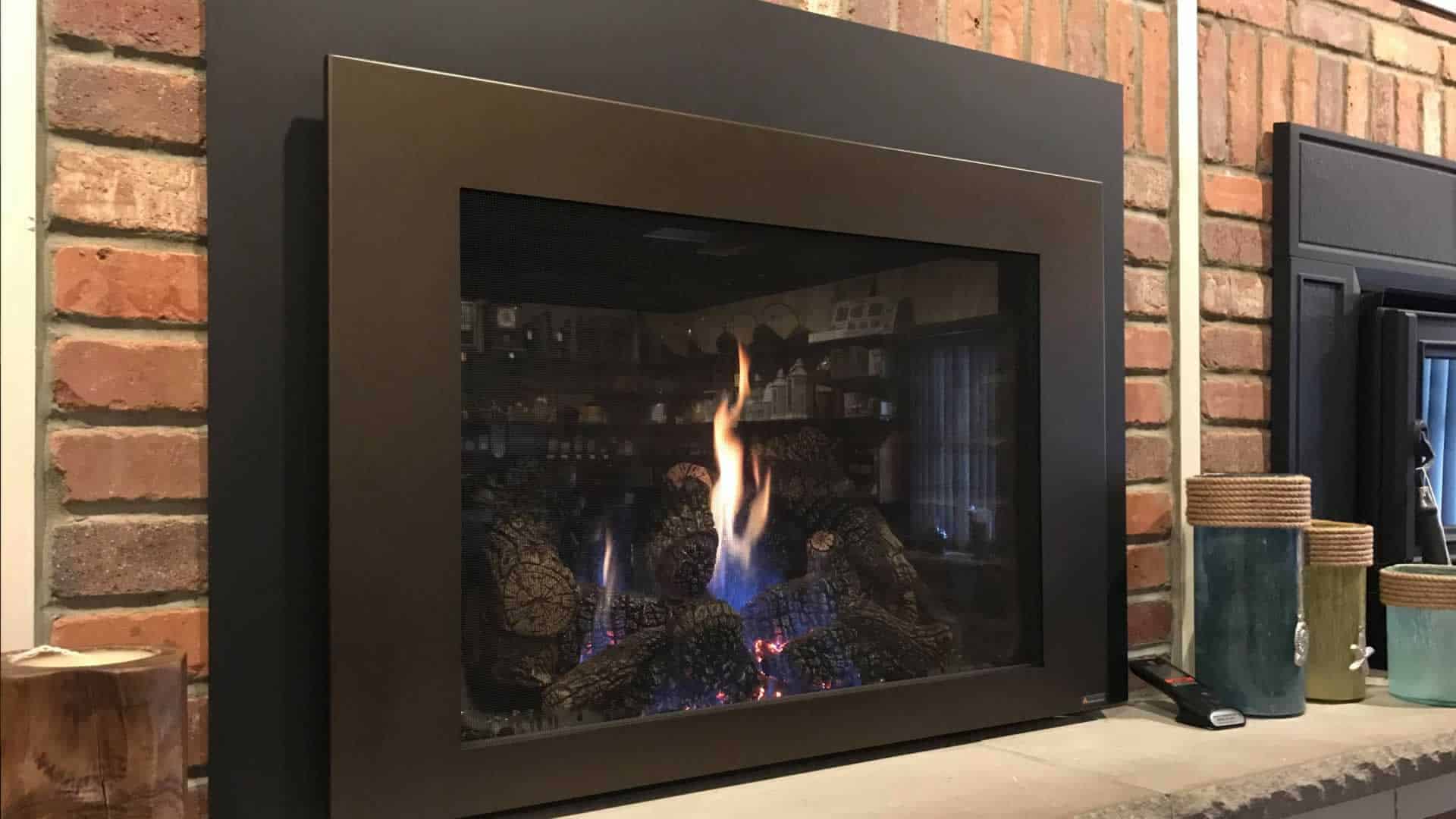 This fireplace not only adds a beautiful focal point to your home, but it also is environmentally conscious.  The selection of one of the finest energy systems and home heaters works during power outages with the battery backup system.
If you are tired of your existing fireplace or it is not preforming at maximum capacity, consider getting the 616 GSR gas fireplace insert. Converting from wood to gas has never been easier with this stunning and efficient insert. Don't wait, get your new fireplace because there simply is no better feeling than snuggling up in your favorite chair, sitting in front of your new fireplace, listening to the sound of the waves crash upon the shore.
Faces / Doors
Metropolitan Black Painted
Shadowbox, Black Painted
Shadowbox, Bronze Patina
Firebacks / Liners
Black Painted
Common Brick
Herringbone Brick
Handmade Brick
Black Glass
Logsets
Standard Legset
Driftwood
Fyre-Stones Stone Kit